NEW ! See through and marked mahjong or Pai Gow tiles
Please eMail "inquiry@marked-cards.com" for pricing
(CUSTOM MANUFACTURED - LIMITED QUANTITY)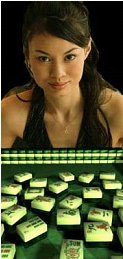 OR
Bablefish language translation for text on this page....click on language desired:
(Note: all audio tracks, video clips and instructions are in English):
| | | |
| --- | --- | --- |
| "Knowledge is Power" with NU-CONcept marked cards | | |
Mahjong tiles
Mahjong tiles look like standard Mahjong tiles. Most of the tile is white with a thin green top. Notice how the top of the tile looks green to the naked eye. But, when you look through the sunglasses (which are a light blue color), you can see through the green top and see the tile's value.
NOTE: These sunglasses are different than luminous sunglasses and can not be used to see luminous or Ultra-Luminous marked cards. They are manufactured exclusively for these Mahjong tiles.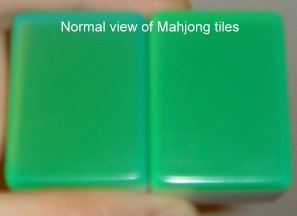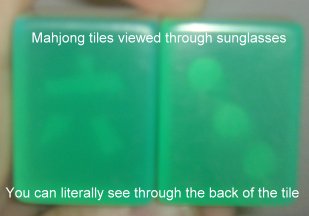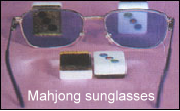 Pai Gow tiles
Notice how the Pai Gow tiles look like normal high quality black tiles to the naked eye. But, when you view the tiles through a special camera, you can see directly through the black plastic to see the tiles value.
The NU-CONcept video luminous camera will generate an even clearer image than the video demo below.
NOTE: I was also able to see through the black plastic tiles with the Ultra-Luminous sunglasses (which are different than the Mahjong sunglasses above). However, when using sunglasses seeing through the Paigow tiles was ONLY possible with bright light which directly hits the tiles.
Double click on the video files below:
NU-CONcept Pai Gow tiles - normal view (MPG)
NU-CONcept Pai Gow tiles - see through view (WMV)
See through cup
Below is an image of what appears to be a standard white china bowl. However, when the bowl is viewed through a camera, you can see objects under the bowl which are not visible to the human eye.
Notice how you can see the dice through the cup.
NOTE: Actual cup shape is different than shown in the photo below. NU-CONcept does not want to show the genral public what the actual cup shape looks like. But, the dice are easy to see when viewed through the special camera.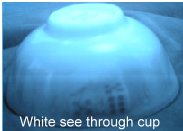 Pricing for the above products are not available yet...so, please contact NU-CONcept at "inquiry@marked-cards.com" for details.
Please eMail "inquiry@marked-cards.com" for pricing
*********
Since these products are VERY new and are not generally available. NU-CONcept has not worked out magic tricks or routines for these props. Therefore, it will be up to the magician or mentalist to work out their own routine.
FOR ENTERTAINMENT PURPOSES ONLY
(It is illegal and immoral to use these marked cards while gambling in private or casino games. Do not cheat poker or other game of chance.)

General Pricing and ordering information for all NU-CONcept products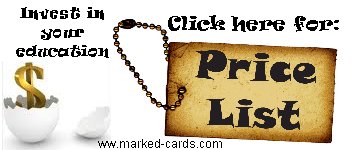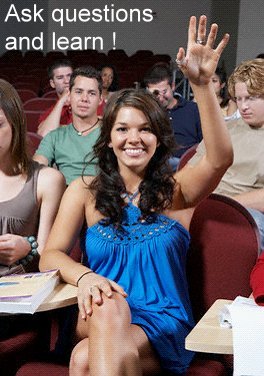 Jeff Spiller; 3280 Sunrise Highway, suite 227, Wantagh, NY 11793
NU-CONcept Solutions
| | | |
| --- | --- | --- |
| "Knowledge is Power" with NU-CONcept marked cards | | |

Web site redesigned and re-named and relocated on Nov. 1, 2004 to www.marked-cards.com